Still Struggling
With That
Sales Page?

You CAN have a great-looking
sales page that makes people
want to invest with you.
You've put your expert skills and knowledge to work and spent precious time creating your program.
You know your next step is to get your program into the hands of the people who will benefit from it.
There's just one problem…
You need a gorgeous, high converting sales page to showcase your offer.
I can help you with that. It's what I do.
Let's talk about how to get that sales page task off your to-do list!
 The 
Done-For-You 

Sales Page Package

is for you if…
  You're struggling to find the right 'look' to express your offering.
  You've already tried some of the tools, themes and templates out there but creating something you're proud of just isn't happening.
  You want to be totally in love with how your offer looks to the world.
  You want people to think "WOW!"
Introducing the
Done-For-You 

Sales Page Package

.

Here's how we'll work together to create the best sales page that is right for you and your clients: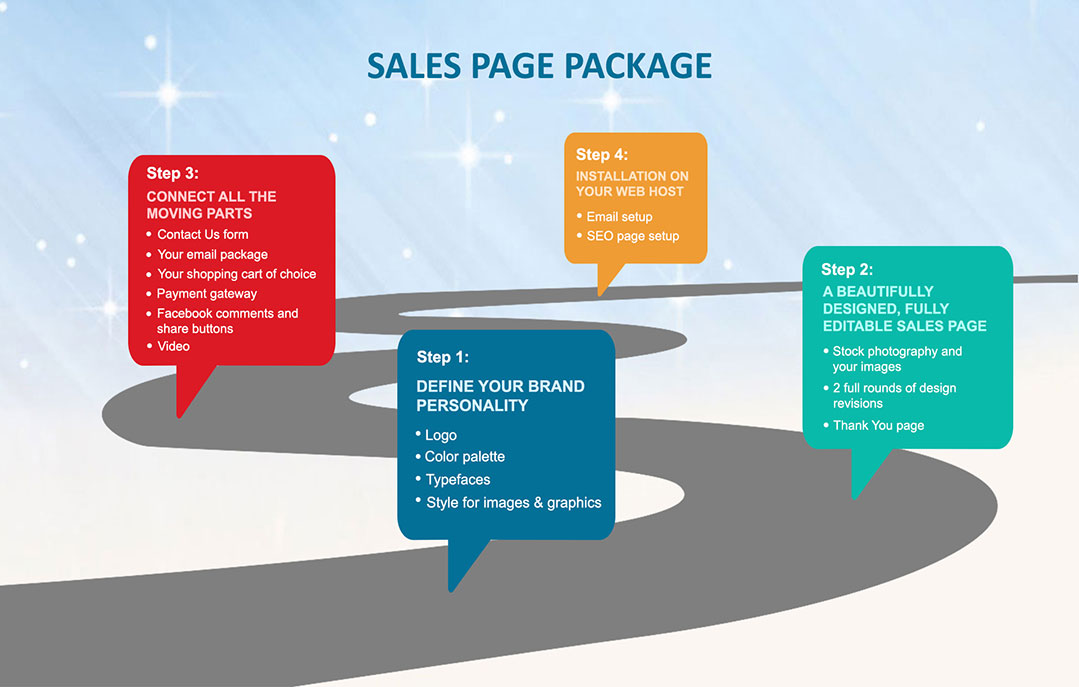 Here's the 

Sales Page Package

 in more detail…
Step 1: Define Your Brand Personality
A strong visual brand helps you to connect with your community and makes you memorable.
We'll work closely with you on your logo, color palette, typefaces and imagery to define a strong brand personality that expresses who you are.
Step 2: A Beautifully Designed, Fully Editable Sales Page
Now we have your branding and copywriting sorted, here's where the magic happens…
Time to design your beautiful sales page that will be fully editable by you in the future. You'll get two full rounds of design edits AND we'll include a branded Thank You page.
Step 3: Connect All The Moving Parts
This is the part that frustrates Sales Page DIYers the most, and with good reason.
For your Sales Page website to have full functionality, it's important to connect your contact forms, shopping buttons, thank you pages, social media and video correctly. I'll do all this for you.
Step 4: Installation on Your Web Host
To go live, we install your sales Page website onto your hosting and set up your email addresses.
Now your page is live, we can integrate SEO to increase your page visibility in Google, create and integrate a Facebook pixel for Facebook ads, AND integrate Google Analytics to provide you with detailed visitor stats.
Wait…there's more
Optional Add On:
This optional add-on service will provide you with the launch funnel you'll need to drive traffic to your fabulous new sales page, AND grow your email and social media lists!
As part of this optional additional package I'll design the graphics for your lead magnet as well as create and set up your Squeeze, Thank You and Delivery pages.
I'll also write your Facebook ads and create the graphics, as well as write a series of 5 post-optin emails to lead your new followers to your fabulous new sales page.
All your followers have to do is fill in your opt-in form to instantly download your lead magnet–I will have made all the connections between your email package, the various pages and software for you.
With this Optional Sales Page Launch Support Package you're fully up-and-running, and good to go!

What clients say about working with me: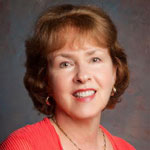 "Catherine designed my new sales page and the process went so smoothly. She made it very easy, very pleasant and she has quite a knowledge of marketing and technology that was a real advantage. I would use her again for a project and I think you should too!"
Nancy Hagan
Organizing & Productivity Coach
www.yourwhatifplan.com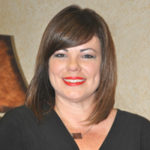 "The sales page I had was not performing very well and I didn't understand why. Catherine looked at it for me made some great observations, then completely redesigned it to make it more user friendly for my audience. It turned out amazing! Working with Catherine and her team was so painless. Catherine is definitely your girl for sales pages.
Kim Weaver Moore
Head Shape Matters
onlinetraining.headshapematters.com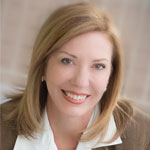 "Not only did Catherine far surpass my expectations in terms of how quickly she could turn my sales page around, it is gorgeous. There is no way that I would have even known how to create something like that. If you are like me, and you're looking for someone who has the technical skill and the marketing background: I really encourage you to contact Catherine. She really cares about you and has your best interest at heart. I couldn't recommend Catherine more highly."
Susan Cullen
President of Quantum Learning Solutions, Inc
www.leap2leadership.com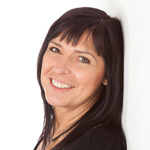 "It's a pleasure to be able to offer some praise for someone who has made a huge difference to not only my business but to all of the businesses that I work with. Catherine and her team at Support Your Brilliance totally get what I want to do. It's fantastic to relay my ideas and then have them turned into reality. Brilliant!"
Susan Routledge
Susan Routledge Consultancy
www.susanroutledge.com
How does the Sales Page Process work?
I'm so glad you asked. It's easy!

1. Tell me about your Sales Page
Once you click on the big orange button below and tell me about your Sales Page idea, I'll review it quickly and contact you within two business days. If we're on the same wavelength we'll move on to Step 2…

2. We'll have a chat
This is my opportunity to establish exactly what your needs are.
It's also your chance to ask me any questions you have about the process. If we agree we are still on the same wavelength, we'll move on to Step 3…

3. Our Sales Page project starts
When we have agreed what your needs are, I'll create your own private Project Upload area online so you'll be able to upload the files I'll need; your images, rough text, that kind of thing.
Click on the button below to send your specific requirements to me
TELL ME ABOUT YOUR SALES PAGE >>
*Payment plans available upon request.
**There is no obligation to purchase a  Complete Done-For-You Sales Page package when you fill out an application form.
***When you submit your application I will personally review it and email you within 2 business days 🙂
Questions? Check the FAQ below, or contact me!
How far in advance should I book my website onto your production schedule?
The farther in advance, the better! I recommend booking your Sales Page session for at least 4 weeks before you want to launch it.
We normally book out 2-3 weeks ahead, so please keep that in mind as you plan your website launch.
What information do you need for my website?
I'll send you an online information-gathering form which you should complete. I usually respond within a couple of days for clarification before we start the website process.
How do I submit my website content to you?
We use Basecamp for everything. Don't worry, I will show you how we work through Basecamp.
How long does the website process take?
Once you have submitted all the information we need, the entire website process (including the pre-week below) takes four weeks. The schedule is:
Pre-Week
Before we commence, you upload your website notes and all other files in Basecamp. If you're worried about this I'll show you how to do it – it's easy!
Week 1
My team and I work with you on your branding. Once all elements of the branding have been signed off, we'll make two or three mockups of what your website will look like.
Week 2
In consultation with you, we will pick the best website mockup and tweak it until it expresses your vision of your website.Then we can proceed to coding up the site onto a staging site. I'll send you email updates with a link so you can view how everything is looking on the staging site.
Week 3
My team and I work on completing your website for you.
After two full rounds of revisions we will be ready to launch!
Week 4:
This is where we work on:
Integration with your Social media, your SEO setup – alt tags and keyword settings as well as integrating
your Contact Us form, clickable phone number and email.
Once our work is complete we can proceed to installing on your domain on your web host
How much one-on-one time do I get with you, Catherine?
When we start the process, we will have an online meeting to flesh out all of the working parts so both of us gain clarity on what needs to be done, and by whom. You can also expect some contact from my amazing team. You will need to be available for a few hours every week for feedback. Please feel free to email me with questions at any time. Finally, I am the one who personally hand delivers your completed work. You and I will be in contact throughout the process. I am your main port of call for any queries you have.
You can also expect some contact from my amazing team too. If you haven't already looked at the topic How long does the website process take? above, you can see you will need to be available for a few hours every week for feedback.
Please feel free to email me with questions at any time.  Finally, I am the one who personally hand delivers your completed website!
Will you personally design my website, or do you have a team?
Both! Myself, our graphics person and our coder will all be working on your website. I've designed the website process so that we each get to focus on what we're really good at. Having a team allows us to be more dependable, systematised, and professional. You're going to love the experience as well as the end result!
What if I have a question that hasn't been answered here?
No problem! Fill in the 'Questions' section below and I'll get back to you as soon as I get your message (usually within one business day).
From my own experience and from seeing my clients struggling with their sales letters, I know one thing to be true — doing everything yourself is TOO HARD! It's sooooo much better (and more fun) with the right support.
When I work on your sales page or your other online marketing, you get the benefit of my experience – not just as a sought-after sales page designer and copywriter, but also as a marketer and course creator.
If you have any questions that are not covered in the FAQ section, please get in touch with me via the Ask Me form.
All my best,

Catherine Trebble
Chief Supporter at Support Your Brilliance