When using Facebook to promote your services I always advise separating your personal and business interests by creating a Facebook Page for your business separate from your personal Facebook profile. You can brand your business page — as well as stop people from seeing overly personal posts on your Facebook Wall by making your personal Facebook page private and "Friends Only".
If you've decided to allow both business and personal connections to see your general Wall, remember the Golden Rule of "what would interest my clients?" before posting anything about being in a foul mood this morning – no matter how tempting that is!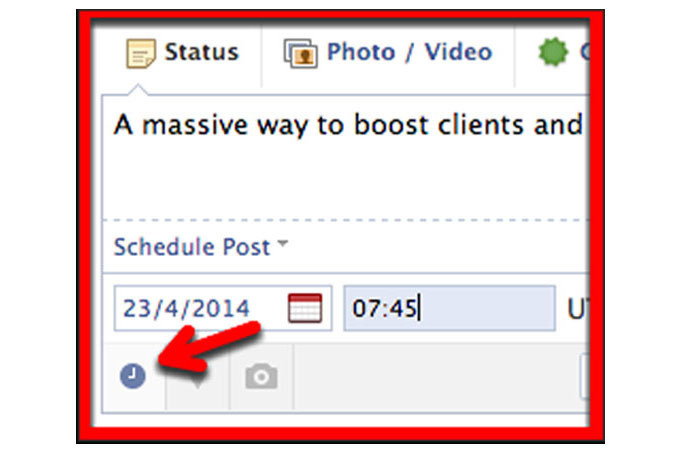 Tips and Tricks
Use the Facebook scheduler to stockpile Facebook posts you can release over a period of time. But do mix this with other, more personal posts.
Post engaging content that is of interest to your target audience to encourage engagement.
Create a relevant, audience-related video for YouTube (amazingly easy to do!) and post the link on your Facebook Page. People will be able to click on the link and instantly play your video.
Best Uses of Facebook
Promoting your services and driving traffic to contact you via your Facebook Page
Increasing your public prominence and engaging in real-time discussion with clients and potential clients
Introducing yourself (by leaving relevant, valuable comments) to industry peers and other businesses your clients frequent
Allowing you to demonstrate your expertise by answering questions or providing resources
Staying connected with your clients, peers and personal connections
Saving you time (if used wisely)
Tailoring Facebook to Your Business
There's only one real "must", when it comes to tailoring Facebook to your business: Focus on your audience — on what would interest them most. To do that, analyze your business benefits and services, and share those most suited to this goal.
Your biggest Facebook tool will be your Facebook Page. It's a real time-saver because, once it's set up, you can let it run on autopilot a lot of the time, with a daily check and comments from you to keep interest alive.
The key to a powerful Facebook Page is interaction. In order to encourage it, always remember the principle of "calls to action":
Provide links and posts that actively incite comment
Ask irresistible questions people just can't help answering
Engage your reader's emotions
Invite readers to share your link or leave feedback
Share powerful links, ending with call-to-action statements such as: "Want to see more links like this?"
Use viral YouTube or website-linked, short video posts
Make sure your comments are enabled on your Facebook page!
Pique curiosity
Facebook is littered with the carcasses of abandoned business pages. Your Facebook page is easily found via a Google search, if your page has the look of a ghost town about it, how does that look to your clients and potential clients who find this? To avoid this fate make sure you post consistently.
Catherine Trebble works with authors, speakers, consultants, coaches and solopreneurs to help them to make the most of the internet and social media channels to get their brilliance out into the world. You can contact Catherine here>>