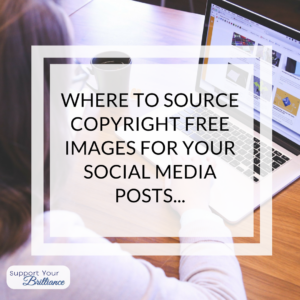 It might be tempting to grab a nice photo from Google to go with your Facebook post. Seriously—don't even consider doing that unless you want to get yourself into a world of trouble!
If you blindly download the first suitable photo you find on the internet for re-use on your social media, emails or website, the chances are that what you're doing is illegal.
If that's news to you then let me explain: the copyright to practically every photo on the internet is owned by someone. Unless the owner(s) expressly say otherwise, re-using that photo without first getting permission is against the law.
Photo-theft – just not worth the risk
If you're thinking: "Does it really matter if I copy and paste the occasional online snap? Is anyone actually going to notice that one teeny picture on my little website or Facebook page?"
The answer is most likely "Yes!"
Many businesses, especially big, scary multinational photo agencies, employ specialist software that actively crawls the web looking for and identifying their copyrighted photographs.
If they find one being used without permission, then they won't hesitate – you WILL get a demand for big bucks for infringement of copyright.
At this stage, "I'm sorry, I didn't realize, I'll take it down now," simply won't cut it. They will come after you regardless and you won't have a leg to stand on.
Copyright free images – easy peace-of-mind
To avoid all this grief, head to one of the following legitimate, free sites that contain millions (yes millions) of free-to-use images, whatever you plan on using them for.
Apart from containing more photos than you can you can shake a stick at, the pictures are also all completely FREE!
My 10 favorite free photo sites
1. Stocksnap.io – billed as the #1 source for beautiful, free, stock photos.
2. Pixabay.com – currently lists 1,030,000 images, all free-to-use!
3. Splitshire.com – started by an Italian photographer keen to share his unused work, now starring in some of the world's largest publications.
4. Pexels.com – adds at least 3,000 new hi-res photos every single month.
5. Unsplash.com – nearly 42,000 photographers appear in the hand-selected Unsplash library.
6. Lifeofpix.com – every week they showcase one outstanding photographer's work from their extensive library.
7. Negativespace.co – a collection of beautiful, categorized images from around the world.
8. Picjumbo.com – 5,250,000 downloads from photographer Viktor Hanacek's site can't be wrong!
9. Gratisography.com – New York native Ryan McGuire, shares joyful photos with an acute sense of energy and fun.
10. Stokpic.com – as well as a library of categorized images, you can even get fortnightly photos sent to your Inbox.
P.S. At the time I compiled this list, the images on these sites were fully free-to-use copyright free images. Beware some of the sites operated by large, commercial agencies who confusingly mix free photos amongst many other pictures you need to pay for.